Sidewalk Bridge in Yonkers
Many people from Yonker may be wondering if we offer the same great sidewalks sheds in Yonker that we'd deliver for Manhattan. The answer is, of course! We can deliver quality and affordability to anyone, anywhere in New York – whether you live in one of the five boroughs or its suburbia. Many neighborhoods in the other four boroughs are very popular with pedestrians, who want to get to school, college, or work safely daily. So building owners must find a company they trust to provide durable and secure services when it comes time for sidewalk replacement work.
At nycscaffoldingandshed, we make sure to serve our customers with a sidewalk shed that is safe and secure and uses high-quality steel as well as fine-grade plywood. These products have been chosen for their reputation as leading industry-standard materials, and because they are utilized in constructions that demand strength. The metal is corrosion resistant and the wood durable, providing you with a shed that is sure to impress. By making use of these reliable materials, we've ensured our product will outlast the competition while offering an impressive design and construction that makes your purchase worthwhile and one worth recommending to friends!
These sidewalks sheds will not become a headache for our customers, because we provide the best quality product so that our customers won't have to suffer from the outcomes of a weak or dysfunctional sidewalk shed in Westchester. That's why we believe in using the finest steel and strongest grade plywood for side walkshed construction. Many of our clients hesitate while installing a sidewalk bridge outside their building as it will spoil the overall outlook of the building. But now at NYC scaffolding and shed, we provide you aesthetically pleasing and beautifully designed sidewalk sheds in Yonker that will automatically uplift the beauty of your building.
Our skilled and trained staff members put their great efforts to meet your satisfaction level. We offer the same level of commitment and professional services in Yonker as we do in other boroughs of New York. So whether you are renting out a side walkshed in Yonker or in any other city, customer satisfaction and contentment is the sole objective of our team.
Related: Pipe Scaffolding in Yonkers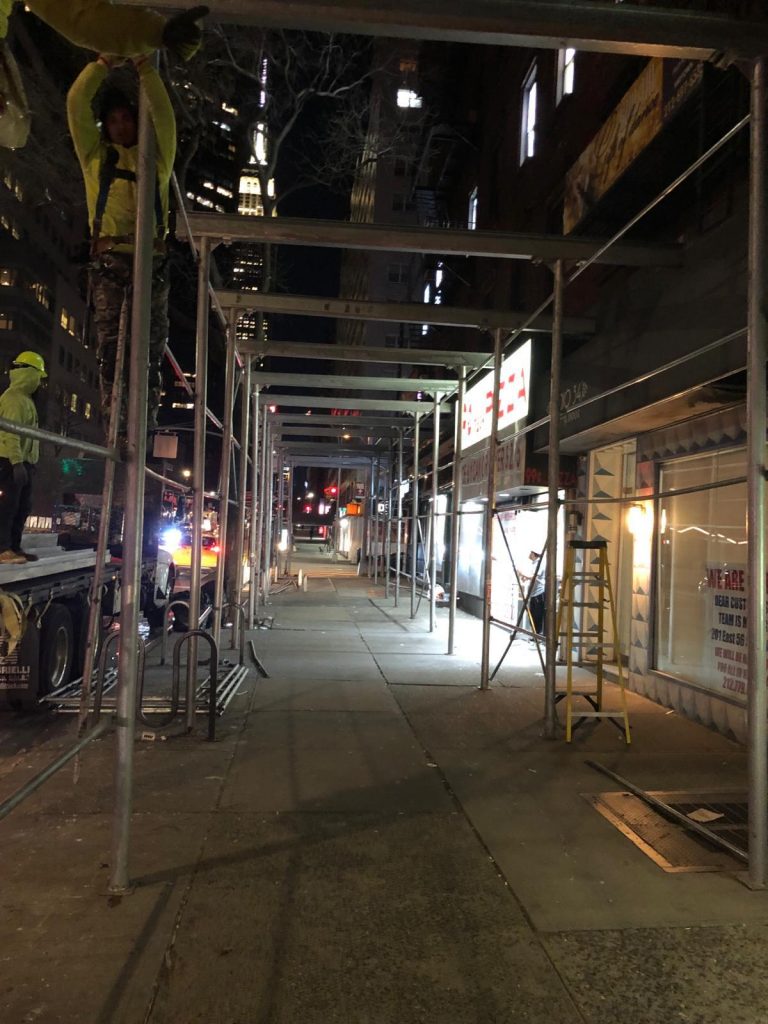 Building The Future on a Foundation of Excellence
With over 20 years of experience, and in-depth knowledge of our work we guarantee 100% Customer satisfaction. We aim to ensure 100% stability and safety in our projects, we do so in 80+ projects every year by far. Furthermore, our services are available at market-competitive rates. So, with us you get the best services at the best rates.
Completed Projects Every Year
Safety & Stability Guaranteed in Projects
Are You Going to Implement Project?
244-04 Jericho Turnpike Floral Park Ny 11001
Our Company is licensed, insured, and bonded, so you can be 100% certain of the quality while renting our equipment. We have more than 20 years of experience in serving the Tri-State Area. We pull all necessary permits from the NYC Department of Buildings and Westchester for the installation of sidewalk sheds and pipe scaffolding.