Pipe Scaffolding in Bronx
Pipe Scaffolding in Bronx
Finding help in the scaffold industry can be a challenge, as there are many companies and options out there you have to do your homework before choosing a company to work with. It's important that the company you choose must have good pricing on all items without sacrificing quality, so one must verify that the welders they use are properly certified by either the USDA or Bureau of Welding Regulation and Qualification (BWRQ) as it helps to prevent mistakes during welding which could potentially cause harm to people who may be in proximity of one during a defective weld. Many scaffolding agencies do not have certified welders. Luckily, at the platform of NYC scaffoldings and sheds you will find experienced and professional welders and craftsman that builds durable and high-quality Pipe Scaffolding in Bronx.
If you want to complete your building project safely without any accident then we assure you, we can help you achieve your goal of building without any accident. Our expert and skilled staff will install all types of scaffolding, ladders, and other safety equipment you might need on your work site.
Our pipe scaffolding's durability, steady build structure, and ability to hold heavy loads easily speak for themselves. No matter how much weight is placed on it or how many workmen climb up to do the job, our pipe scaffolding will remain firm and steady. To make these structures flexible, we make movable scaffolding by installing extremely firm tires.
We guaranteed you that these tires would be of high quality and won't slip at all. This way you can ensure the safety of people working on your project. We do our best to exceed your expectations, and we pride ourselves on our work and try to understand everything you need from us. That's why people prefer NYC scaffolding and sidewalk sheds over other suppliers. Our dedication to our customer's needs makes us their number one choice when looking for a company to supply quality scaffolding products in the Bronx. So it's time to get a free estimate.
Related: Sidewalk Shed in Bronx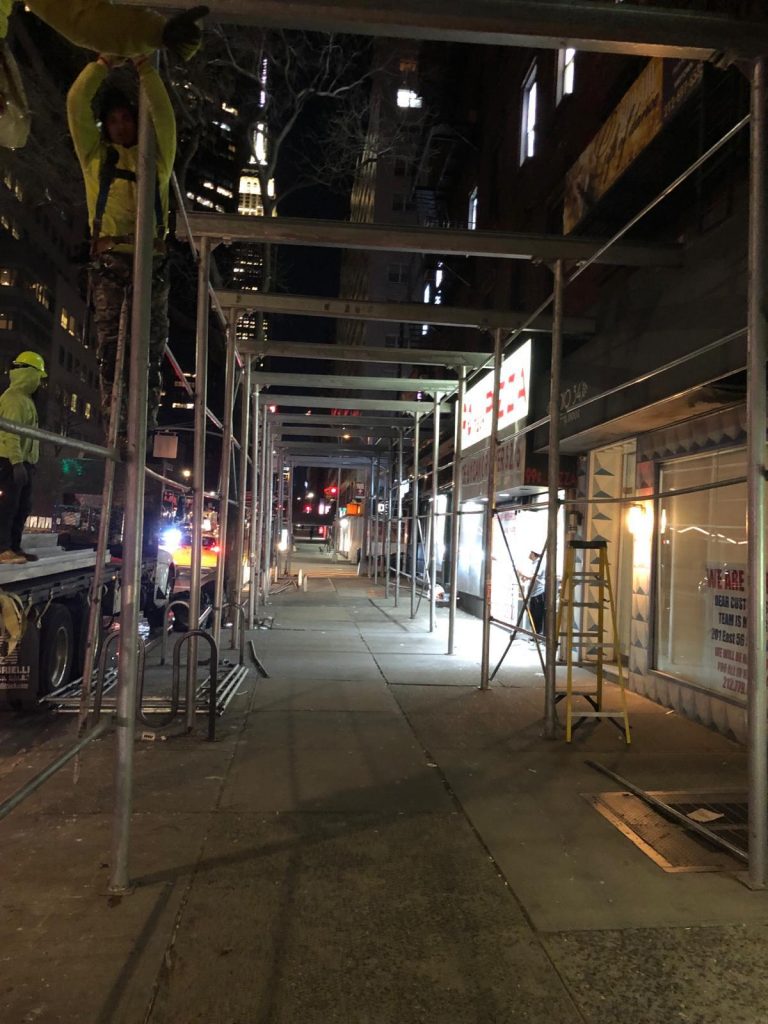 Building The Future on a Foundation of Excellence
With over 20 years of experience, and in-depth knowledge of our work we guarantee 100% Customer satisfaction. We aim to ensure 100% stability and safety in our projects, we do so in 80+ projects every year by far. Furthermore, our services are available at market-competitive rates. So, with us you get the best services at the best rates.
Completed Projects Every Year
Safety & Stability Guaranteed in Projects
Are You Going to Implement Project?
244-04 Jericho Turnpike Floral Park Ny 11001
Our Company is licensed, insured, and bonded, so you can be 100% certain of the quality while renting our equipment. We have more than 20 years of experience in serving the Tri-State Area. We pull all necessary permits from the NYC Department of Buildings and Westchester for the installation of sidewalk sheds and pipe scaffolding.