Pipe Scaffolding in New Jersey
Pipe Scaffolding in New Jersey
To ensure you have a smooth experience when it comes to your construction project, scaffolding is essential! Whether the project happens to work being done at heightened areas or not, having proper Pipe Scaffolding in New Jersey will ease the process of constructing and repairing buildings. Customers are often remarking about how difficult it is to find affordable and dependable companies that provide excellent quality scaffolds. The good news is you can rest easy knowing that we here at NYC scaffolding and shed offer our customers top-notch services at some of the most affordable rates on record.
Our pipe scaffolding in New Jersey is built to last forever. It is one of the bestseller scaffolding in town. Our scaffolding is very durable and incredibly sturdy, so it will be able to hold up a large amount of weight without cracking or being compromised in any serious way. No matter how many workers use the scaffolding, or how much heavy material you place on it, it will remain strong and solid.
You'll never have to worry about a potentially dangerous collapse caused by insufficient scaffold strength or stability. Our scaffolding is also very convenient because we install extremely flexible tires that allow our product to be used in every type of terrain or situation as well as moving them around if they need to be moved to another spot!
Our sturdy tires provide safety to people who work in construction areas. They are also firm and durable and will last for ages. Also, our scaffolding is built with exceptional skills and techniques so you can be certain that it will be safe to work on it.
Why you should choose NYC scaffolding and sidewalk shed service?
One main reason for choosing us is our great deal of understanding when it comes to construction. You may find Scaffolding rental services in many places but not all offer the same level of service that we provide. As we are meticulous in our approach to construction and believe that no job can be done half-heartedly, this will ultimately affect the final quality of work if scaffolding is involved. Other than our scaffolding and side Walk Bridge, our work ethic also makes us stand out from the rest of these companies. As we pay full attention to detail by examining and testing every aspect of the job before delivering it to the customer. So try us, you won't regret your decision. Get a free quotation now!
Related: Sidewalk Bridge in New Jersey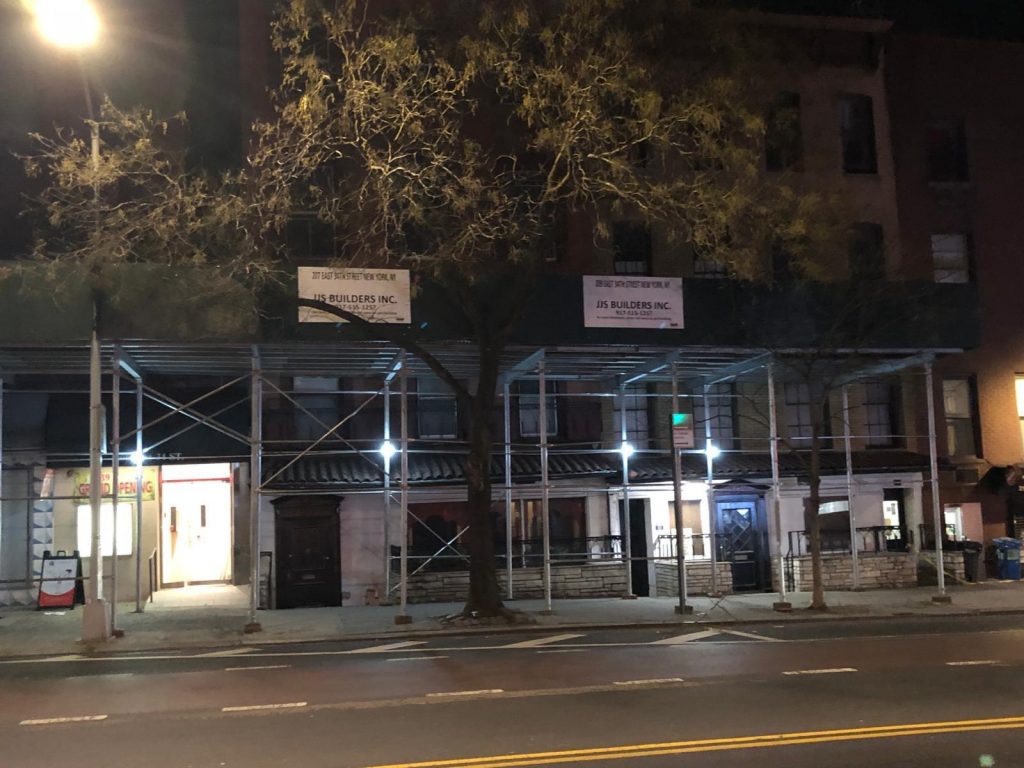 Building The Future on a Foundation of Excellence
With over 20 years of experience, and in-depth knowledge of our work we guarantee 100% Customer satisfaction. We aim to ensure 100% stability and safety in our projects, we do so in 80+ projects every year by far. Furthermore, our services are available at market-competitive rates. So, with us you get the best services at the best rates.
Completed Projects Every Year
Safety & Stability Guaranteed in Projects
Are You Going to Implement Project?
244-04 Jericho Turnpike Floral Park Ny 11001
Our Company is licensed, insured, and bonded, so you can be 100% certain of the quality while renting our equipment. We have more than 20 years of experience in serving the Tri-State Area. We pull all necessary permits from the NYC Department of Buildings and Westchester for the installation of sidewalk sheds and pipe scaffolding.